If you struggle with chronic back and leg pain, endoscopic spine surgery is an effective way to restore your mobility and comfort. However, this procedure may not be right for everyone living with spine disorders. Our trusted spine specialist in New Jersey, Dr. Grigory Goldberg, outlines what you can expect during your consultation and treatment.
Look over the following information, then hire our premier spine surgeons to start planning your rehabilitation.
Understanding Endoscopic Spine Surgery
According to the World Health Organization, 500,000 people around the world experience spinal cord injuries every year that result in persistent back pain and immobility. Many of these injuries develop into long-term disorders, like herniated disc, sciatica, or facet joint syndrome. Endoscopic surgery is a minimally invasive procedure designed to treat these spinal conditions and more through HD camera imaging and radiofrequency probes.
In the past, medical professionals considered most spinal surgeries to be incredibly risky. Today, endoscopic spine surgery reduces risk with precision tools and high-end treatments. Most endoscopic surgeries also help to preserve the normal range of spine motion for patients post-recovery.
Our doctors can complete these operations within just an hour, depending on your condition. 
Best Candidates for Endoscopic Spine Surgery
Mild spine conditions typically do not require surgery to correct. According to data published by Straits Research, hundreds of thousands of people treat spinal dysfunction with medical braces and physical therapy. 
Still, severe symptoms may encourage you to seek surgical solutions. Endoscopic spine surgery is generally suitable for elderly patients, younger patients in excellent health, and those who did not receive positive results from conventional, non-invasive treatments.
There is no age limit for those who can receive this treatment. However, our doctors do not consider endoscopic spine surgery a first-option treatment. This solution is ideal after doctors have expended all other treatments.
Benefits You Can Enjoy From Endoscopic Surgery
You can alleviate your back and leg pain quickly with a quality endoscopic surgery from our orthopedic spine specialists. Most patients notice significant improvements in their posture, comfortability, and sleep within just days of their operations.
Endoscopic surgery has a very low post-treatment infection risk. As a result, you likely won't need to see a doctor for additional medications or wound cleanings once the procedure is complete. 
Qualified patients can opt into spinal fusion treatments when receiving endoscopic surgery. This procedure helps vertebrae heal from injuries or displacement.
Our doctors can administer a local anesthetic during the procedure. This way, you won't need to worry about potential complications that come with general anesthesia. You can also avoid long hospital stays by investing in this state-of-the-art outpatient procedure.
A clinician from our team will discuss other benefits you can enjoy during an initial consultation.
Primary Differences Between Endoscopic Surgery and Minimally Invasive Spine Surgery
Conventional spine surgeries can be traumatic for you and your body. These procedures usually require an inch-long incision into the back that can lead to significant blood loss. Moreover, conventional spine surgeries usually require longer recovery times.
Some traditional spine surgeries cause infections or complications that worsen symptoms over time. These problems could require additional surgeries to correct. However, according to the University of Adelaide, only a marginal percentage of patients will experience a successful outcome after a second or third spine surgery.
On the other hand, endoscopic surgeries eliminate most of these concerns with minimally invasive operative techniques.
What to Expect During a Consultation
You must receive a formal diagnosis from your physician — verifying that your condition requires endoscopic surgery — before seeking this treatment. For most patients, they can typically discuss this option after several weeks of conventional treatment. 
During your consultation, our doctors will explain what you can expect before, during, and after your procedure. They will walk you through the process step-by-step so you are confident about your preparation and recovery. In some cases, they will refer you to an additional spine specialist for a second opinion.
Don't hesitate to ask any questions you have about this procedure. Our doctors will communicate all the information you need using a vocabulary you can understand. They will also show you charts and photographs of the procedure so you have a comprehensive understanding of what the operation looks like.
How to Prepare for Endoscopic Surgery
Unlike some procedures, endoscopic spine surgery does not usually require a special preparation period. That said, our doctors will recommend that you follow a few tips to be in the best health for your operation.
For example, they will suggest losing weight to facilitate a faster recovery period. Excess weight on the spine can lead to stress and increase the risk of infection.
They will also recommend that you quit smoking and drinking alcohol. These substances can lead to blood circulation problems which inhibit your body's ability to heal even small incision wounds. 
It's wise to maintain a healthy diet of fruits and vegetables before your surgery.
Lastly, our doctors sometimes request patients stop taking certain medications before their procedures. This strategy is practical for the use of anesthetics or other prescription drugs they will provide after the procedure.
The Surgical Process
The operation begins when our doctors lay you on a sterile operation table and administer a local anesthetic to the target area of your spine. Few patients report any discomfort during this step. Once the anesthetic activates, your surgeon will create a quarter-inch incision into your skin and insert a tubular trocar. 
They will then feed a small camera into the incision to look for signs of spine damage. They will transmit images in real-time to a computer and mark areas for treatment. Your surgeons will then administer the appropriate treatment corresponding to your condition.
Suppose a herniated disc is the source of your back pain. In that case, they will be able to find the debris and gently remove it with a small, plier-like tool.
Once the main phase of the surgery is complete, our doctors will remove the trocar from the incision area and close it. They will clean the wound with antibacterial solutions and seal it with a suture and bandage.
Our doctors will have you sit for a few moments to avoid dizziness immediately following the procedure. After you receive the green light from your surgeon, you can be on your way — simple as that.
Recovery Tips After Endoscopic Surgery
It's important to avoid lifting heavy objects, twisting, or bending for at least six weeks following your procedure. These activities can cause your stitches to bust or reopen internal wounds. Our physicians will recommend getting as much rest as possible to promote a healthier recovery.
Continue to avoid smoking and drinking during your recovery phase. Additionally, follow all of your doctor's orders down to the smallest detail. Ignoring essential advice could reverse the effects of your surgery.
You should also avoid driving for two weeks or until our specialists give you the all-clear. 
You can return to your normal activities after a few months or when your doctor decides that your body is healed.
Speak to a World-Class New Jersey Spine Surgeon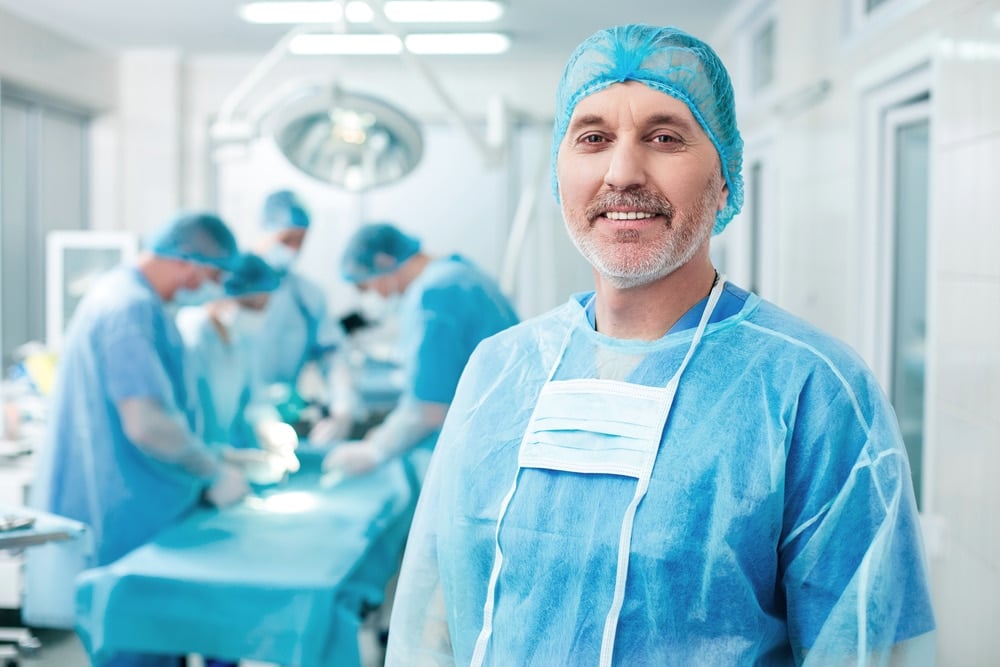 Do you still wonder if endoscopic spine surgery is right for you? Our doctors at Grigory Goldberg, MD, Orthopedic Spine Specialist, can navigate you through the diagnosis and treatment process, so you can find a solution that suits your budget, medical history, and comfort preferences.
Same-day appointments may be available when you schedule now. Continue exploring our website for helpful reviews and testimonials. 
Partner with Grigory Goldberg, MD, Orthopedic Spine Specialist for endoscopic spine surgery. Call a clinic in Clifton, Barnegat, or other New Jersey locations at 844-373-2772.
FAQs About Endoscopic Spine Surgery
Many patients ask us questions about endoscopic spine surgery during their consultations. Here are a few common inquiries:
How Successful Is Endoscopic Spine Surgery?
Most surgeons complete endoscopic surgeries with 90% success rates. Our doctors pride themselves on paying close attention to detail during these procedures and administering the highest level of care. Few patients require additional surgery after this treatment.
How Long Does it Take to Recover From Endoscopy Surgery?
Endoscopic surgery recovery times vary from person to person. Most patients typically feel back to normal after two months of rest and doctors' orders. You may be able to return to work or school within two weeks of your surgery. 
How Much Does Endoscopic Surgery Cost?
Endoscopic spine surgery is a complex operation that requires skilled doctors and modern equipment. Hence, most patients should expect to pay somewhere between $5,000 and $8,000 for the treatment. Our doctors accept most insurance plans, including workers' compensation, no-fault, and PIP (personal injury protection).
Why Not Choose Traditional Surgery Over Endoscopic Surgery?
Most people choose endoscopic surgery over traditional surgeries because it requires smaller incisions and produces less noticeable scars. Still, endoscopic spine surgery may not be right for you if you are on certain medication or your medical history discourages it. Our orthopedic specialists can find the best solution for you when you call.